Gooooood morning!
Oh my gosh, the weather is gorgeous here right now. Yesterday I wore FLIP FLOPS. It was awesome.
Since it was such nice spring weather yesterday, I flung open all of the windows in the house and let the fresh air in (and the winter germs out! BYE!)... and then cleaned all the things.
I had such a productive day! And I had a song from Rocko's Modern Life stuck in my head the whole time. I was not technically supposed to be watching that show as a child, but for some reason the song stuck with me...
* First, I finally finished taking the stickers off of our windows. I know we've been living here for over a year, and I did take care of most of the windows when we moved in, but then my arm probably started to hurt or I ran out of time and quit. So after all that time, our windows are now sticker free thanks to a handy vinegar-and-water solution that I found on Pinterest last year. HOORAY!!!
* I vacuumed every rug in the house. After I was done with the rug in our bedroom I also Febreezed it. (Mmm, dog smell and dirty shoes : )
* I also did two loads of laundry (and then ran out of detergent... whoops)
* After seeing
this post on A Bowl Full of Lemons
last week, I also decided it was time to clean out the fridge. I threw away some things that had been hidden in the back corners of the fridge and consequently expired, took out and washed all of the drawers and shelves, and then used fridge liners (that I got at a bridal shower last year and never used because I was too lazy to clean the fridge then) for all of the drawers. I really didn't think our fridge was that dirty but it really looks awesome now.
Since I was on a roll I also took off all of the magnets and junk that was stuck to the fridge and cleaned the outside of it as well. I'm kinda glad I did, because we didn't need expired Burger King coupons, the 2013 Steelers schedule, and the jewelry store's business card stuck to the front of the fridge.
* Then I wiped down the counters and played the "put things away that have just been sitting around" game.
The only thing left to do today is wet-Swiffer the floors and dust. (Also we are going to dye Easter Eggs! yeahhhhhh!)
Along with all of the cleaning yesterday, I also went shopping - in the morning I went by myself to Target, 5 Below, Kohl's, and PetSmart and got a lot of good deals. (God, I love Target Cartwheel.) In the evening A. and I went to Lowe's (paint and a ladder, woo!) and then the grocery store (more laundry detergent, among other things). He was working outside all day while I was cleaning inside, so we were both exhausted by the time we finally got home. Penny was also tired, because we went for a walk first thing and then she trailed me around all day while I was cleaning.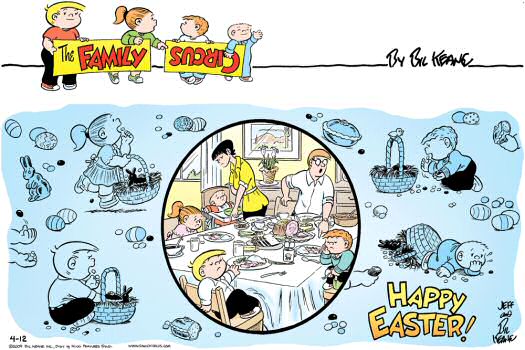 This time of year always makes me think of watching the Family Circus Easter special. : )
On a side note, I am so excited that this week is only four days because of "Easter Break" (it would have been a longer break without snow make up days, boooooo) and then going home to see my family next weekend : ) I hope you all have a great Easter weekend!
-K.