I stayed awake for the
entire
Oscars broadcast last night. I was like, "I have a two-hour delay tomorrow. It'll be fine."
Wrong. I'm exhausted!
BUT, I think it was an excellent Oscars. I wasn't really bored (or offended or uncomfortable) at all. I enjoyed the fashion, I enjoyed the hosting and presenting, and while I didn't see the vast majority of the nominated films (Frozen. I saw Frozen. That's it), I am sure the performances of the actors were worthy.
My only big disappointment of the evening was Idina Menzel's performance... you can tell she was super-nervous and potentially over-rehearsed. Her hands were shaking and she looked nauseous. Her last big note ("let the storm rage ON") was overblown and her voice went out on her, which I know from experience is a terrible feeling. You could tell that when she was done singing, she was like "Crap. Crap crap crap. Get me out of here." But she had to paste on a smile and hear that she did an awesome job. I know, I
know
by the look on her face that she was also unhappy with her performance. She is a veteran Broadway performer, so she's sung in front of huge audiences before. It's okay, Idina. People still love you. You're still awesome.
This expression is not a "I just had the best performance of my life" kind of face.
ANYWAY, that aside, here were some of my favorite moments of the night:
1. John Travolta absolutely, completely, and totally botching Idina's name
This probably didn't help her performance nerves at all.
YOU HAD ONE JOB, JOHN.
...Say what???
2. Lupita Nyong'o: her dress, her brother, her acceptance speech. Just everything.
What a gracious, appreciative, beautiful woman. She is such a class act and, while I don't think I could make it through 12 Years a Slave without terrible anxiety, hysterics, and permanent nightmares (I'm not proud of that), the clips I have seen of her acting are phenomenal. I love that her enthusiastic and proud brother was her date and that he unabashedly jumped in Ellen's celebrity group selfie. The way that she began her speech was absolutely perfect: "It doesn't escape me for one moment that so much joy in my life is thanks to so much pain in someone else's. And so I want to salute the spirit of Patsey for her guidance."
Also, this snippet: "Steve McQueen, you charge everything you fashion with a breath of your own spirit." Perfection. I wish I could speak that eloquently...
...and I bet John Travolta does too!
3. Speaking of that awesome Ellen group selfie...
I was one of the re-tweeters that helped make history. You're welcome.
4. Kristen Anderson-Lopez and Robert Lopez's acceptance speech for "Let it Go."
First of all, I'm glad that "Let it Go" won the Oscar, because it is a very fantastic song. But this acceptance speech was the cutest ever. The rhyming, the singing, the succinctness- I'm in love.
(video embedded below, you might not be able to view if you're on a mobile device)
5. The entire "Ellen ordering a pizza" thing.
Some people are all worked up about the pizza thing, and how the guy didn't get his tip, and is he an actor or not?, etc. etc. But you know what, I loved the whole bit. It was random, sure, but it was fun and I'm pretty sure no one felt uncomfortable. Also, Jared Leto gave his pizza to his mom! SO CUTE.
The fact that some of the celebrities just jumped up and helped serve the pizza was also fun.
6. The musical performances
Even though Idina's performance wasn't her best, there were plenty of great performances throughout the evening. I enjoyed Karen O's performance of her "Best Song" nominee, which I had never heard before. I also loved Pink's rendition of "Somewhere Over the Rainbow" and I was singing along with Bette the whole time she performed "Wind Beneath My Wings." Also, Pharrell's song is so catchy and HAPPY despite his stupid hat and weird shoes.
7. Joseph Gordon-Levitt and Emma Watson.
I'm sorry, isn't this one of the cutest things you've ever seen?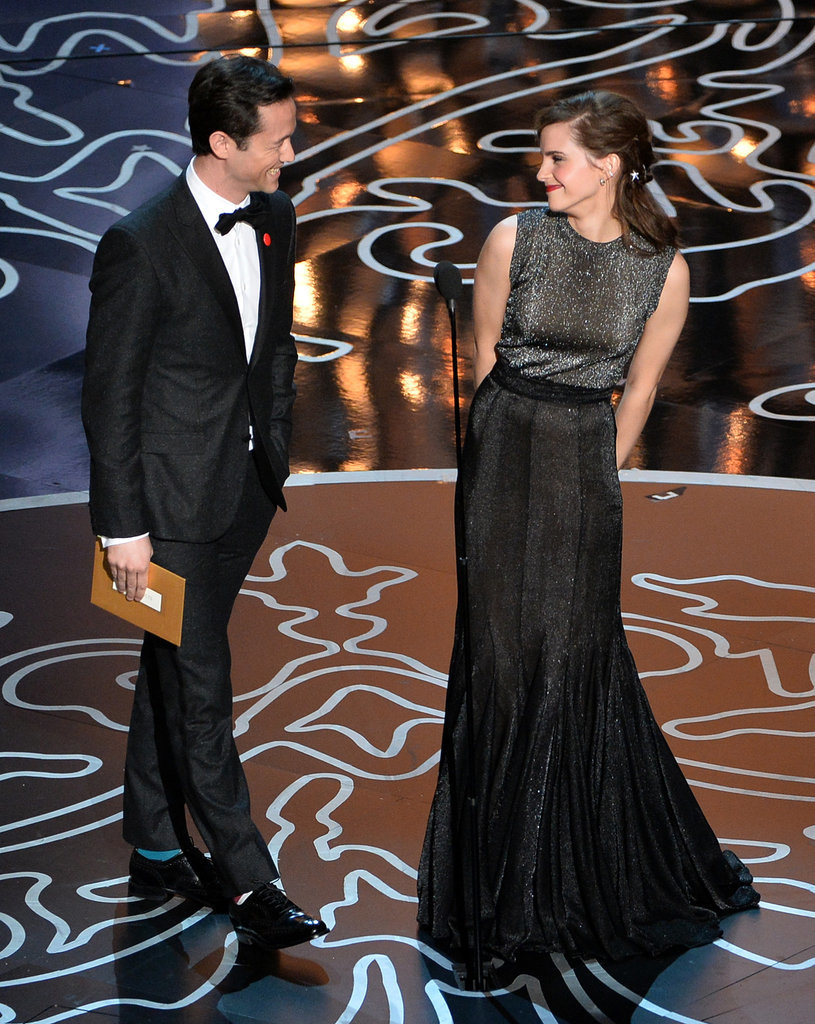 I looked and looked for a GIF of Joseph holding the envelope in front of the camera before they announced the award... and LUCKILY I FOUND IT.
8. Matthew McConaughey's acceptance speech.
I cannot spell that guy's name for my life but at least I can pronounce it (another Travolta dig WHAT). Anyway, I'm not his biggest fan, per se, but his acceptance speech was so thoughtful and sweet. It was almost like a sermon instead of an acceptance speech, but I thought it was great. If you want to read a transcript of it, go
here
.
9. The fact that Harry Potter movies, actors, and music seemed to get more shout-outs and features in this Oscars ceremony than they ever did when the series was actually in progress.
10. Darlene Love belting out "His Eye is On the Sparrow" as her acceptance speech for the documentary 20 Feet from Stardom.
I LOVED THIS. I was sitting in my seat with goosebumps going "PREACH!" I really want to see this documentary, and I love that she just let it all go. I loved that they cut to Bill Murray jumping to his feet, applauding, as she finished the song, and then panned wide to the crowd on their feet. Talk about unbridled joy and a huge voice!
HONORABLE MENTION:
Kate Hudson's Dress
I mean. Flawless.
Those are my ten best Oscar moments... what did you enjoy?!
-K.