It has been approximately a year since A and I moved into our house, and a little under a year since we discovered DirecTV. We used to live by On Demand from Comcast, but since we got DirecTV we have fallen in love with DVR. Here are the shows we have been DVRing:
1. The Tonight Show with Jimmy Fallon
I'm sorry, haven't I mentioned lately how much I love Jimmy Fallon?
2. Modern Family
This is such an excellent show. We got the first DVD of the first season on Netflix, and then just ordered all of the seasons from Amazon because we knew we would love it.
3. The Big Bang Theory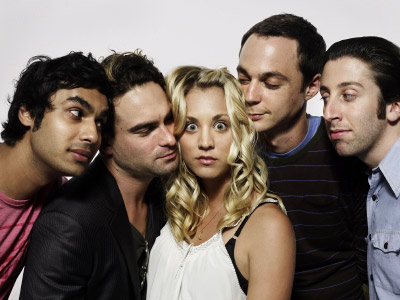 I find this picture very funny : ) Also, hello, we named our dog Penny...
4. Parks & Rec
This show is hysterical. All of the characters are fantastic; Ron Swanson is amazing. Also, Adam Scott is pretty nice to look at.
5. Hollywood Game Night
I love games. I love celebrities. I enjoy laughing. What's not to like? : )
6. Saturday Night Live
A. and I just can't stay up late enough for Jimmy Fallon and SNL... he has to get up for work at 4:45 every morning, and I usually wind up turning in a little after he does because I feel weird staying up late when he's in bed already. SNL has been hit or miss lately, but there are usually some good sketches on each episode.
7. Too Cute!
This was a recent find on Animal Planet... Penny and I love watching this show. She will sit in front of the TV and watch and listen to the puppies. Basically the show follows three litters of newborn puppies (there are also kitten episodes) through various adventures until they find their "forever homes."
In season, we record America's Got Talent, Who do you think you are? and The Sing-Off.
We also use our DVR to record specials and events, like the Puppy Bowl, the Super Bowl, the Tony Awards, the Grammys, Oscars, Emmys, etc (that way I don't have to stay up to watch them haha). I also have the Sound of Music live! recorded still, and recently we recorded the movie This is the End. I'm not a huge fan, but A found it funny. : )
What have you been watching?
-K.