Good morning!
So far I have greatly enjoyed this weekend. My parents and brother came to visit yesterday, and A's parents and nephew came over last night, and we finally all got to watch our wedding video, which my parents got last weekend. It was so worth the wait. The videographers did a phenomenal job and we have a great keepsake of our special day... so many laughs and little moments we didn't notice the day of.
This morning I took a good meander through Target (love those) and came home to a new crock-pot recipe that I had put in this morning - Hawaiian Chicken. Sooooooo yummy.
I've been wanting to write for a while about some things I discovered in 2013 that I am still very much enjoying and wanted to share with blog world. So, here goes!
1. Dr. Scholl's For Her "Miracle Shield" or "Rub Relief" stick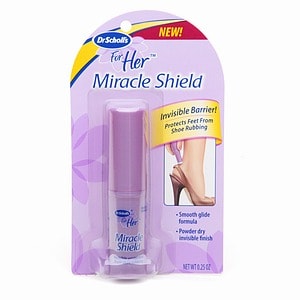 The day of my wedding, my bff and bridesmaid C brought this along with her and insisted that I use it. I am forever grateful. I rubbed this miracle concoction on my heels and other parts of my feet that were danger zones for my wedding shoes.
I did not have take my shoes off ALL DAY. It was fabulous. I did take them off at the end of the night to dance with more ease, but not because I was in pain. I cannot recommend this product any higher. I've used it for school shoes, as well... but I feel like the wedding example speaks volumes.
2. Cosmetic Corner shelf organizer
I bought
this product
from Amazon in October... I was sick of all of the clutter on my bathroom vanity, especially because "my" bathroom is the one that guests in our house also use. I love it so much.
3. Jimmy Fallon
I've always enjoyed Jimmy but once I started DVRing his show last fall, our love affair really took off. A understands, he's cool with it.
4. Ancestry.com
I started watching the show "Who do you think you are?" on TLC this summer, and it made me really curious about my family tree. I had to do a family tree project in 5th grade, and at my family reunion for my dad's maternal side of the family this summer we got a genealogy book, but I wanted to see what I could find. It's pretty cool. With my grandparents' help, I've gotten back to my 4th-great grandparents on my mom's side; I've found census reports and draft cards and other documents. I find it very interesting. : )
5. Disney's dining plan
I wrote so many posts about our honeymoon to Disney, but A and I are still talking about the awesome food we had there- a lot of which we probably wouldn't have tried without our dining plan. We are looking forward to our trip to Disneyland (1st time for both of us!) in California this summer.
And of course
Most importantly
6. My little darling Penny : )
She's asleep next to me right now. Sometimes she drives me bonkers, but I love having a puppy!
Enjoy the rest of your weekend, everyone! I have a crazy week ahead... I'm not really looking forward to it. I have a band festival this weekend so it's not really a weekend-- although since we have off on Monday for MLKJr Day, at least I still get two days off! Phew!
Take it easy--
K.