CHRISTMAS CHRISTMAS CHRISTMAS!!!!
I am so excited. I have my second Christmas concert tomorrow night; there is snow on the ground; my house is finally completely decorated; and I'm waiting for my gift from
The Snowflake Swap
. YAY!
Today I'm continuing my Christmas carol series... this song was on the radio pretty much every time I was in the car today, so I took it as a sign that it was supposed to be the next on my list.
There are some Christmas songs, especially hymn-like songs, that I prefer to be simpler in timbre and texture. One of my favorites is
O Holy Night
.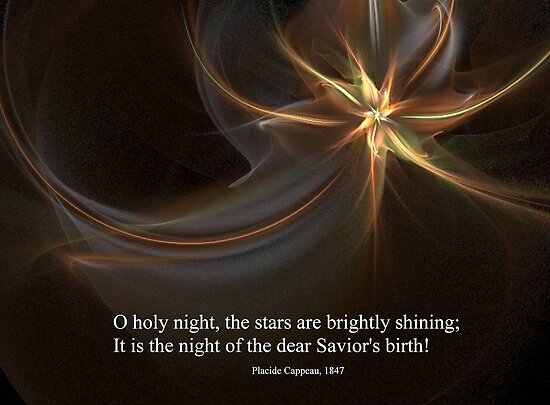 First of all, the words are gorgeous.
It's a French song from the nineteenth century, and the English translation of the original text is a little different than the English lyrics you will hear in the recordings below:
Midnight, Christians, it is the solemn hour,

When God as man descended unto us

To erase the stain of original sin

And to end the wrath of His Father.

The entire world thrills with hope

On this night that gives it a Saviour.
Interesting, but not quite with the same effect as the familiar version I love so much:
Truly He taught us to love one another;

His law is love and His gospel is peace.

Chains shall He break for the slave is our brother;

And in His name all oppression shall cease.

Sweet hymns of joy in grateful chorus raise we,

Let all within us praise His holy name.

Christ is the Lord! O praise His Name forever,

His power and glory evermore proclaim.
My hands down favorite version of O Holy Night is the performance by
Martina McBride.
Another version I really enjoy is the
Celine Dion
recording. I was a huge Celine fan growing up!
The recording by
Josh Groban
is also very nice - he holds that last note forever and year. What a guy.
The first time I fell in love with this song was in Home Alone, when Kevin goes into the church and runs into Marley. They have their heart-to-heart with this song playing in the background.
I've been saving a few of my favorite carols for the end, so look for more of them in the days to come! In the meantime, I hope you are all enjoying the awesome things the Christmas season offers - go to a local high school concert and support their music program - they work hard to prepare the music and most of the time you will find that the music is of pretty good quality : )
Until next time!
-K.