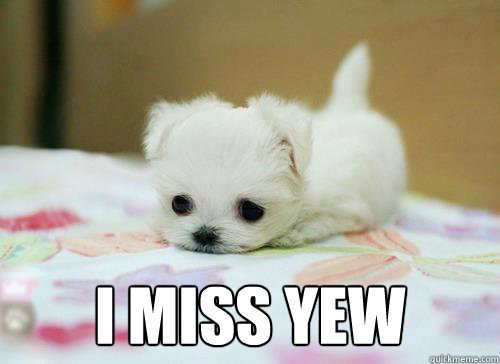 Hi everyone!
I haven't dropped off the face of the planet.
Things have just been a little bit crazy - school, family, life.
Thank goodness for DVR : )
I have still been cooking things (occasionally) and thinking up new things to blog about. I just haven't had much time to do any of it. I disappeared from link-ups and all of that. Yet, for some odd reason, people are still repinning my blog entries, including the ones about the GM diet - even though I talked about how sick it made me and how my nutritionist friend told me it was a stupid thing to do.
But hey! It's nice to see you are all visiting here... haha : )
Anyway, here are some things I am into right now:
1) Reese's ice cream bars. I know they're not healthy, but DANG if they don't taste good.
2) Pandora. I don't know why I didn't realize it before a few weeks ago, but since I can plug my iPhone into my car stereo, I can also turn Pandora on for an entire car ride... Smash, Disney, Broadway... ahhhh!
3) Sleep. Everyone keeps telling me how tired I look. Trying to get sleep, but it's not always that easy!
4) Singing. I've been trying to make music more myself, instead of just teaching it... right now that's mostly piano and singing. : )
5) DVR. As I said above... without it I'd be so behind on everything!
6) Our wedding pictures! They are here! Now I am excited to see our video...
Things I am so over right now:
1) Shutterfly and FedEx. We have been living in this house since February, guys. It exists. I've given you directions multiple times. Get. It. TOGETHER.
2) Halloween. I've just never been a big Halloween person. I get that from my mom and my grandma (her mom). I like fall, and pumpkins and squash and all that, but I just don't get Halloween.
3) Drama. It's a hazard of working in a high school.
4) Early darkness... I hate when it gets dark so early. : (
5) Penny's teething stage. She hasn't destroyed anything that isn't hers (yet), but she gets all bonkers and when both A. and I are tired, it's crazy. (Wait until we have real kids instead of just a puppy... ahh!)
Things I am excited for:
1) CHRISTMAS! Home Alone is on TV right now.
2) The Sing-Off is starting up again soon... I love that TV show!
3) Concert band season : ) <~ nerd
4) More time with A. and Penny... which means
5) More time to blog! LOL
Keep on keepin' on, everyone... I'll be back (for real) soon!
-K.